Overview
Allergies are conditions where the body reacts abnormally to a foreign substance. These reactions include skin or sinus irritation, gastrointestinal or respiratory distress, or more severe ailments. Treatment includes identifying and avoiding allergens that trigger symptoms, medication, and if necessary, developing an emergency action plan for severe attacks.
The SIU Medicine Allergy Clinic is a specialized clinic focusing on evaluation and treatment of environmental and food allergies
Comprehensive testing for allergies to dust, pollens, molds and animal dander
Evaluation and testing for food allergies
Comprehensive management of allergic disorders affecting the nose, sinuses, ears and voice including medical, surgical treatment and immunotherapy (allergy shots)
Comprehensive evaluation of allergy related chronic sinus disorders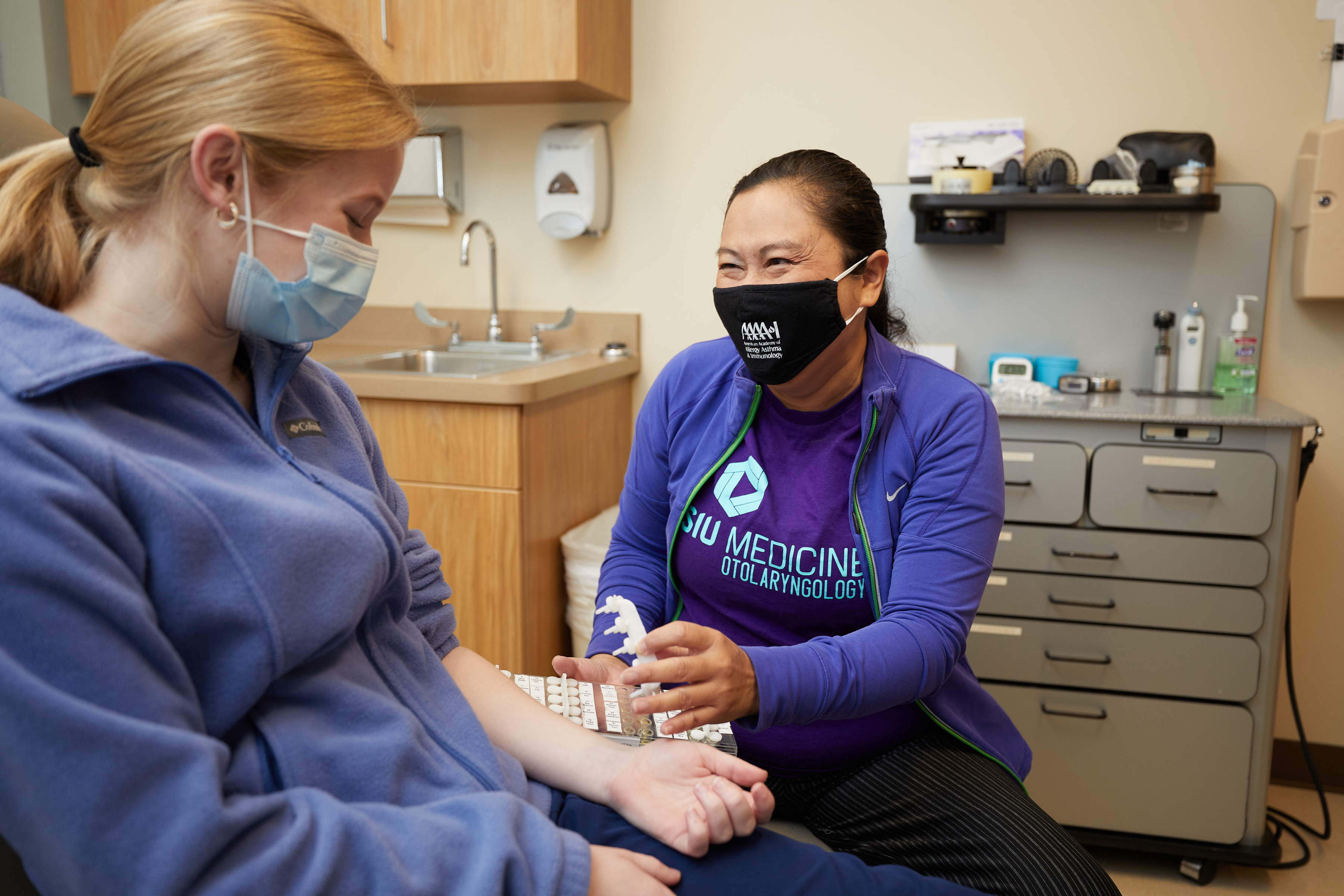 Treatment options
Patients who have allergies that are not controlled with medical management have two treatment options for desensitization at SIU. The first step is to call our office at 217-545-8000 to schedule an allergy consult with one of our physicians. This consultation can be scheduled by the patient and does not require a doctor's referral (unless your insurance plan requires an insurance referral). A 20-minute screening test can be done to determine if you may have allergies. Based on your exam and history, our doctor will order the full 1-hour allergy test. This is called an MQT.
Results of this test will be available the same day. The doctor will review the test and recommend a treatment plan. Traditional allergy injections are given over a 3-5 year period. Injections are given weekly and then spaced out to every 2 or 3 weeks as directed by the physician. These are typically covered by most insurances.
Sublingual drop therapy (SLIT) is administered at home by the patient, 7 days per week, for 3-5 years. Allergy drops can safely and effectively treat a broad range of allergies, including animal dander, pollens and molds. While highly effective this therapy is often not covered by most insurances.
Any specific questions can be answered by the team at SIU Medicine allergy clinic 217-545-8000 or by viewing our question and answer page.
Why SIU
Continually learning
With a focus on continual improvement, our doctors take the time to research, study and innovate to provide the latest treatments for our patients.
Patient-first experience
Our care ranges from primary care physicians to specialists and sub-specialists who have advanced training. We're here for you when you need us.
Breakthrough technology
Continually teaching the next generation of doctors, our physicians use the latest developments in procedures and technologies for our patients.